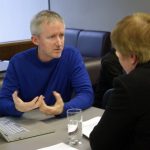 While recording job interviews is not overly common, it is certainly not unheard of, and nowadays, there are plenty of employers opting for video interviews, which are obviously recorded.  There are many reasons why those seeking new talent choose to do this, and also opt to hire transcription services online.
Distance is a big issue today.  Though workers are willing to relocate once they have been offered a position, or willing to perform the duties remotely, there is no desire to travel all over the country in order to interview for jobs.  Rather than making this a requirement, many employers will offer the option of hosting a video interview.
At others times, it is not the prospective employee but rather the individual doing the hiring that has trouble arranging a face-to-face meeting.  When interviewing large volumes of people, or when a job prevents the employer from being at the office for such meetings, video interviews are a great alternative and they can also be sent away for digital transcription.
There are additional benefits to recording an interview.  For one thing, it can prevent the need for a second- or third round of interviewing, because the others who will weigh in when making a final decision can simply reference the recorded interview. When there is a top three or top five list of potential employees, transcribed versions of the interviews can be cross referenced and highlighted. 
This is not the end of the advantages of hiring transcription services.  UK companies rarely hire once.  Very often positions continue to open up, and while a candidate may not have been the perfect fit for the first vacancy, he or she could be ideal for the second or third.  Transcribed interviews can be filed away, with the applications and resumes, to be referenced again when a new position opens.